The Street Tradition
Keith Haring gained notoriety from the streets. It was among the everyday people that he worked and lived. Haring continues to influence a younger generation of artists, especially those who bring their works directly to the public, such as Banksy, Shepard Fairey and Reko Rennie. Haring's important influence on these artists has become more vocalised as they become global sensations, in much the same manner that Haring had decades earlier.
According to American artist, Shepard Fairey, Haring's work is:
"…simultaneously refined and primitive, deliberate and yet lyrical and energetic. Clearly he aspired to create art with purity and integrity, but to do so in an accessible way so it could be shared with the people."1
In 2010, Fairey created his own homage to Haring and released a screen-print portrait of Haring holding a spray can. This limited edition was released at around the same time that Fairey completed a new work at the same location of Haring's 1982 mural on Houston Street in New York. Fairey's mural was met with controversy. No sooner had the security hired to protect the work gone off duty, that it was tagged and ripped apart by New Yorkers calling to 'Bring back the Keith Haring!'2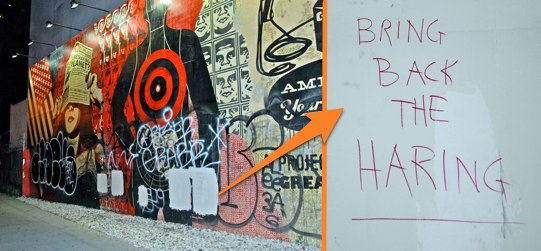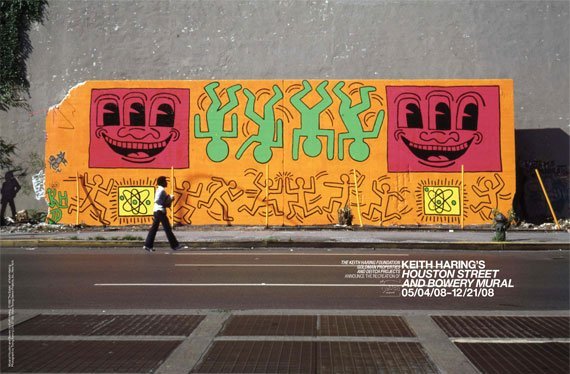 That same year in London the elusive street artist, Banksy, created his own tribute to Haring that combined one of Haring's painted iconic 'barking dogs' with his own stencil.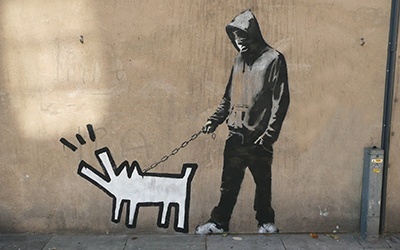 Another artist to publicly acknowledge the influence of Keith Haring is Reko Rennie, an Aboriginal (Kamilaroi/Gamilaraay/Gummaroi) Australian artist of international acclaim. Rennie's work has its roots in the street tradition and explores what it means to be an urban Aboriginal in contemporary Australian society. Reko notes that:
"…Keith Haring was a huge influence. I suppose one of the things that resonated with Haring was that he was able to move through all these subcultures…here was a guy that was really big about expressing himself in a public environment."3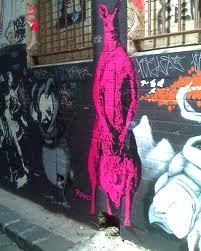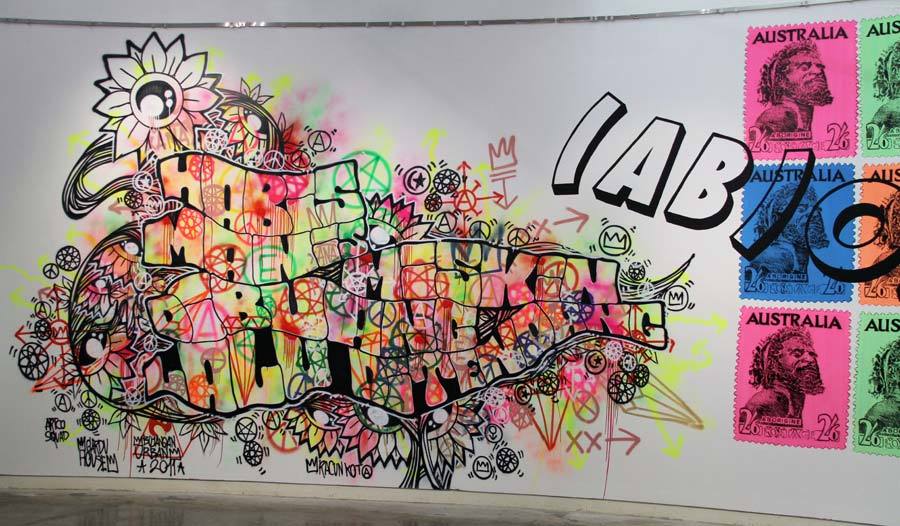 1 K Haring, Keith Haring Journals,Penguin Books, New York, 2010, p. xi
2 M Vilensky, New York Magazine, 'New Defacement on Shepard Fairey's Houston Street Mural: 'Bring Back the Haring', New York, 12 June 2010
3 R Rennie, excerpt from interview at the Keith Haring mural in Collingwood, 5 April 2012.