Art, Politics & Issues
'Haring's hallmark (was) perfection of execution.'1 Like Andy Warhol, Haring was interested in capturing the American spirit and the oeuvre of his work reflected American culture as he observed it.
The 1980s was an incredible time of invention, controversy and ideas. One thinks of the emergence of computer technology, the spread of the crack cocaine epidemic through major cities in America, the devastating impact of the AIDS virus, Ronald Reagan was President, changes to apartheid in South Africa were afoot, the Cold War continued and in Australia, the banking system had just been deregulated.
The 80s was perhaps the last decade without cameras and satellites monitoring our every move (virtually everywhere on the planet). It was a time when, somehow, without an iPhone, Haring still found all the good parties and clubs, and managed to connect with millions of people without a Facebook or Twitter account.
The issues that Haring addressed through his art are issues that remain pertinent to this day. At the forefront were subjects such as nuclear energy, control over society by greedy banks and faceless corporations, and the overwhelming speed at which modern society was being inundated by vast quantities of data. Haring wrote in his journal:
"People always ask me: "Where do I get all these ideas?" I say, I'm not sure, I only know that I am living in the 20th century and I absorb information at an increasingly rapid rate. We all do. Information is coming from all kids of sources. New sources everyday. Technology is moving faster, perhaps, than we can keep up with."2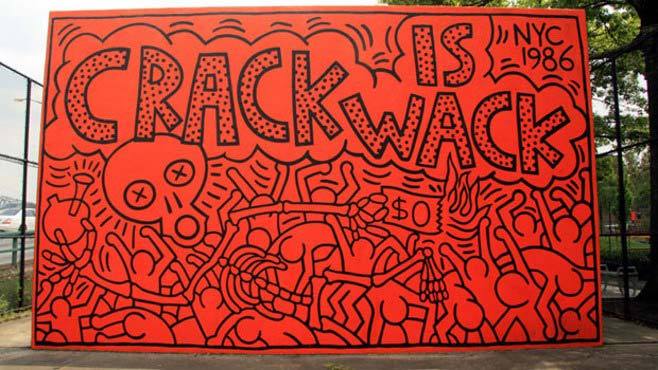 Through his art Haring encouraged people to stand up and speak out about difficult issues. To a new generation of fans, his works continue to promote a legacy of freedom of thought, energy and spirit.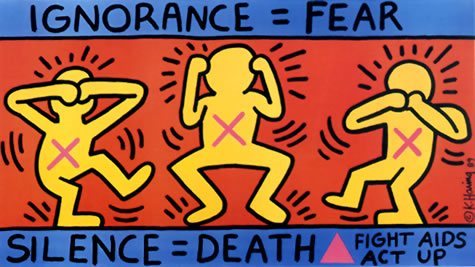 1 A Kolossa, Keith Haring, Taschen, Germany, 2004, p. 7
2 K Haring, Keith Haring Journals, Penguin Books, New York, 2010, p. 116