Keith Haring Biography
Keith Haring (1958-90) was preeminent among the young artists, performers and musicians in New York whose work responded to urban street culture of the 1980s. Inspired by the graffiti artists whose marks covered the city's trains, Haring began to draw in white chalk over the black paper used to cover vacant advertising panels throughout the subway system. Not only was Haring able to reach a large and diverse audience with his subway drawings, but, eventually, the subway became, as Haring said, a "laboratory" for working out his ideas.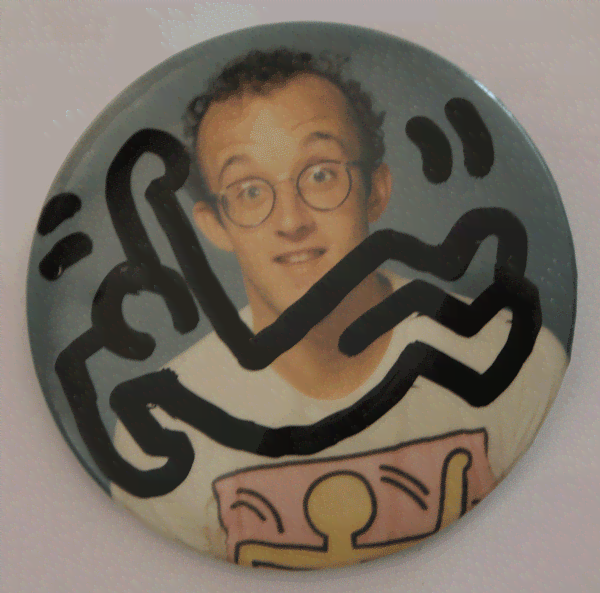 As early as 1982, Haring began exhibiting in galleries and museums around the world and continued to participate in public projects, including literacy campaigns and anti-AIDS initiatives. Throughout his career, Haring produced murals, sculptures and paintings to benefit hospitals, underprivileged children's groups and various community health organisations.
Before his early death from an AIDS-related illness in 1990, Haring established a foundation in his name to maintain and enhance his legacy of giving to children's and AIDS organisations. The Keith Haring Foundation is committed to sustaining and expanding public awareness of the life and work of Keith Haring. By working with museums, galleries, publishers and art education programmers the Foundation is able to provide information and artwork to the public that might otherwise remain unexplored in its archives.
Keith Haring has been the subject of several international retrospectives. His work is held in major private and public collections, including those of the Museum of Modern Art; the Whitney Museum of American Art; Los Angeles County Museum of Art; Art Institute of Chicago; the Bass Museum, Miami; Centre Georges Pompidou, Paris; Ludwig Museum, Cologne; and Stedelijk Museum, Amsterdam.
To further broaden the audience for Haring, two websites have been established which include comprehensive biographical information, online exhibitions, interviews and a calendar of current exhibitions. Please visit haring.com and haringkids.com to learn more.