Introduction: Keith Haring in Australia
Keith Haring's visit to Australia, from 18 February to 8 March 1984, is still regarded with surprise. That an international art superstar should make it to our shores during his meteoric rise to fame — let alone undertake a series of public works here — is amazing. Haring was already a celebrated artist of the 1980s' New York art scene by the time John Buckley, inaugural director of the Australian Centre for Contemporary Art (ACCA), invited him to travel to Melbourne to undertake a series of public projects for ACCA and to speak with art media, including Ashley Crawford of Tension magazine and Paul Taylor of Art & Text magazine.
Along with many of Melbourne's art writers, curators, academics and artists, I met Keith Haring at a couple of functions, most notably at Paul Taylor's home, where we had a rooftop party. It was a great night, humid, sweaty and full of fun. Haring was a charming and sincere guy, a gentle sort of man and unassuming. He told me about a range of art activities he had undertaken during his time here. He was particularly pleased about the major mural he had completed in Collingwood.
In 2012, twenty-eight years after Keith Haring's visit to Australia, the City of Yarra has generously supported a project that gathers together the many threads of his stay here. This project includes the printed publication, Caterpillars & Computers: Keith Haring in Australia and The Melbourne Keith Haring Mural website.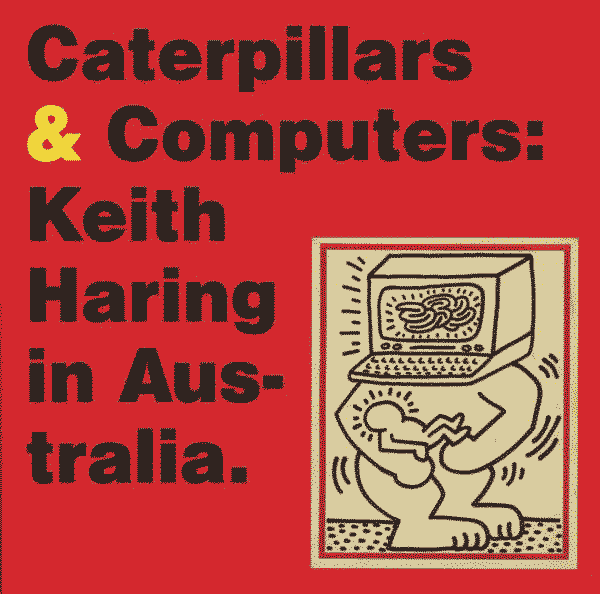 Caterpillars & Computers: Keith Haring in Australia has been co-published with ACCA and brings Keith Haring's time in Australia vividly to life through anecdotes and art historical observations. Ted Gott and Lisa Sullivan provide a detailed overview of Haring's activities in Melbourne, with particular reference to the outdoor mural he painted at the Collingwood Technical College. Jane Rankin-Reid positions Haring's artistic practice within an international context, drawing on her own experience of living in New York's East Village in the 1980s. Lachlan MacDowall locates Haring's outdoor works within Melbourne's own tradition of street art. And through a series of anecdotal contributions, a range of Melbournians reflect on their encounters with Haring during his Melbourne stay. This publication, which contains many previously unpublished photos of Haring and his works, is available through ACCA's bookshop.
The Melbourne Keith Haring Mural website functions as a free online resource for those wanting to learn more about Keith Haring and his time in Australia. It contains interviews with the Keith Haring Foundation and John Buckley (which also appear in the print publication), and a series of video interviews with various individuals living and working in and around the Collingood area. These 'vox pops' make apparent the significant influence and impact that Keith Haring and this important artwork have had on the artistic and local community of the City of Yarra. The website also functions as a source for bibliographical information on Haring and an image and media archive for documents related to his time in Australia.
This extensive documentation project has been researched, nurtured, commissioned and edited by ACCA's associate curator, Hannah Mathews whose passionate and sustained campaign has done a great deal to rescue Haring's Collingwood mural from historical amnesia. Wendy Bignami has ably assisted her in the large task of mining the messy archives and hazy memories of the 1980s. I would like to thank the City of Yarra and the Keith Haring Foundation for their support of this project, as well as those individuals who have lent their stories, photographs and memorabilia for inclusion.
I encourage you to utilise this resource to learn more about Keith Haring's unexpected visit to Australia in 1984 and the Collingwood mural in particular, which is the last remaining large-scale artwork and publicly accessible record of the artist's special time with us.
Juliana Engberg is the artistic director of the Australian Centre for Contemporary Art, Melbourne.