History of the Mural
A rising star in the international art world, American artist Keith Haring visited Australia in 1984 on the invitation of John Buckley, the inaugural director of the Australian Centre for Contemporary Art.
During his three-week visit Haring created a number of temporary works, including a mural on the National Gallery of Victoria's waterwall and in the Art Gallery of New South Wales' foyer, and created a number of ephemeral works, including small graffiti pieces along the Yarra River and a body art work for the Melbourne Fashion Festival. He also created a series of paintings which were exhibited at ACCA on its opening.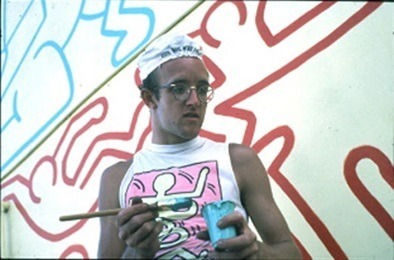 Keith Haring painting the Collingwood mural, 1984 (Photo by Tseng Kwong Chi, 1984 © Muna Tseng Dance Projects Inc.)
Of all the works made by Haring while in Australia, only one work was intended to be permanently sited in a public space. This was the outdoor mural he painted at the Collingwood Technical College in inner city Melbourne. Organised by Buckley, Haring painted this mural in one day in front of an audience of students and local residents. Captured with his typical bold and energetic use of colour and line, its pictorial content includes a giant worm with a computer monitor brain positioned above a cast of dancing figures.